Hours of Operation
We are short-staffed at the moment. PLEASE give us a call before you come to be sure we're open on time.
MONDAY: 12:00pm to 5:00pm
TUESDAY thru THURSDAY: 6:30pm to 9:30pm
SATURDAY: 12:00pm to 4:00pm
SUNDAY : 2:00 pm to 6:00 pm
***NOTE: All hours are subject to closure should we not have the Cook power. This is the reality of a volunteer-run space. If this makes you unhappy, consider becoming a Cook--it's the BEST!!!
Contact
Phone:(323) NO-CARRO or (323) 662-2776
Email: kitchen[at]bicyclekitchen[dot]com
Location
4429 Fountain Ave, LA CA 90029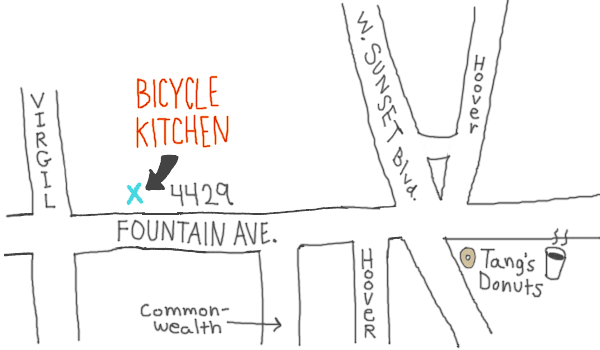 That's two blocks west of Sunset Blvd... not far from the old Tangs Donuts in Silver Lake.
GO METRO! We are within walking distance of the Vermont/Sunset stop on the Red Line. Come on the train, leave on a bike!